Saturday, Nov 1
We had done most of our packing Thursday and Friday night, so we managed to get out of the house pretty much on time, a bit past 7:00. As we were driving, it was pretty easy to get things squared away not being real concerned with space, etc. DC is only a bit over 3 1/2 hours, so we really didn't need to get going so early but were planning on stopping by Fort McHenry in Baltimore on the way. The weather turned out to be mostly rain, so we decided to hit there on the way back, when the weather was supposed to be better. As we didn't want to get to our hotel real early, we decided to head into Virginia to the mall in Tyson's Corner. Our plan was to get lunch at Fire+Ice which is a Mongolian BBQ place we really like in Providence and was listed on the mall's website. However, it was actually Fire & Ice – decidedly different in that it was a jewelry store. Oh well, they actually had a fast food Mongolian BBQ place which was quite good. It was also kind of nice to be back at the mall as Suzanne and I ate at Maggiano's at this mall for our first meal out as a married couple back in 1999.
After lunch, we drove into DC to check in at the hotel. I had found this hotel via TripAdvisor and got a decent deal at around $240/night, including parking which was a decent chunk of it, for a one bedroom suite with a full kitchen. It worked out very well to have the extra space, the living/dining room was quite large, and to have to kitchen to make something for Kyle every day. We also ate breakfast in the room each morning. The location was fairly good, being on the edge of Georgetown and a 5-10 minute walk to the Foggy Bottom Metro station and on several bus lines. Just about across the street was Trader Joe's for groceries and a nice Whole Foods Market at the Metro.
After checking in, about 2:30, we hopped the to the Smithsonian stop to do our first visit to the Smithsonian Air and Space Museum. This was something Kyle was really keen on doing and enjoyed it immensely. After hitting a number of exhibit halls until closing time, we caught the bus back to Washing Circle (basically where the Foggy Bottom Metro stop is). The plan was to hit Bertucci's for dinner, but they were closed for a private party. Instead, it was TGIFriday's. Traveling with a picky, overtired 8-year old limits the choices a bit. After dinner, we headed back to the hotel after a stop at Trader Joe's for groceries. It wasn't that late, but we had had a fairly long day, so we called it a night.
Sunday, Nov 2
Sunday morning we had a quick breakfast at the hotel. We headed back to the Air & Space Museum, this time being smart and getting off at L'Enfant Plaza stop just a block from the museum instead of the Smithsonian stop a few blocks along the mall. This was especially good as it was quite chilly. Our first stop was the IMAX ticket booth where we got Kyle and me tickets to see D-DAY: NORMANDY 1944 (in 3D). Before the show, we hit some more of the museum, including the Apollo program and Time and Navigation exhibits. While Kyle and I were at the show, which was excellent and very appropriate for Kyle, Suzanne went next door to visit the National Museum of the American Indian. She thought it was very well done and would have liked to spend a bit more time there.
After lunch, McDonald's at the museum, we hit the Intergalactic Travel Bureau, which was a special event as part of the Innovation Festival going on that weekend. We planned a trip to Europa, but the price was a but steep at several trillion dollars. We ended up in the Space Shuttle exhibit just before a talk by retired astronaut Don Thomas, also part of the Innovation Festival. It was quite interesting, even to Kyle. After seeing the original Wright Flyer, the 747 cockpit, and a few more exhibits, we decided to call it a day around 4 and head back to Foggy Bottom. Dinner tonight actually was at Bertucci's, after a brief stop by Whole Foods just down the block. The walk back to the hotel was a bit cold as it had cooled down and the wind came up, but we made it back after a fairly long day.
Monday, Nov 3
Breakfast again at the hotel and then we headed out to the Metro around 9:00 down to the Washington Monument. We had heard it can be tricky to get tickets and there were none when I had checked online the night before. It turns out, there were plenty available, once we found the proper window. We elected to get tickets for mid-afternoon to give us time to see a bit beforehand. With tickets in hand, we walked down and around the World War II Memorial. I hadn't seen this before and we were all quite impressed. We next continued down to the Vietnam Veterans Memorial and Lincoln Memorial which were as powerful as I remember from earlier trips.
When we were finished there, we made the long trek back to the Smithsonian Museum of American History for lunch and a visit before our Washington Monument time. The cafe there was decent. I thought it was a bit pricey as it was a bit over $40 for three of us. However, I'd rather pay nothing for admission and $40 for lunch then $40+ for admission and then $30 for lunch. We hit a few exhibits before heading back to the Washington Monument. None of use had ever been up the monument before, so that was very cool. The views from the top were excellent and the view inside on the way down was quite interesting. Once done there it was back to American History for more, including Julia Child's kitchen, a real highlight. We ended up here until they closed at 5:30.
We headed back to the hotel for a bit of a break. It was very chilly this evening, so we decided to head to dinner at Flavors of India which was just two doors down. Kyle had started eating rice and naan a few months back, so we decided we could do a curry night. The food was pretty good though it took a bit longer that I would have liked. After dinner, we headed back to the hotel for the night.
Tuesday, Nov 4
After another breakfast at the hotel, we headed out on the early side down to Ford's Theater. We were a bit worried about tickets but there were some available right away. The museum was quite interesting, especially seeing the actual pistol used by John Wilkes Booth in his assassination of Abraham Lincoln and the boot that was cut from his ankle injured when he leaped from the presidential box. After visiting the theater itself, we headed across the street to the Petersen House where Lincoln was brought after he was shot and where he died the next morning. Next was a brief stroll around to the back of Ford's Theater for part of Kyle's Junior Ranger badge, which he claimed back at the theater. (This was to be his first of three this trip.)
We then headed over to the National Archives for a brief visit and then onto the Smithsonian Museum of Natural History. After a brief lunch, we started our visit. First up, after a pass through the Ocean Hall, it was on to the Hall of Human Origins. This was excellent and included some real highlights. Next was a stroll through some of the mammal exhibit and then the gems and minerals. Kyle really liked this. It's amazing to see the diversity of minerals that exist. It was also cool to see a significant display of phosphorescent minerals from the Sterling Hill Mine in Ogdensburg, NJ (near Sparta), which Kyle and I visited a couple of years back. (It's now a museum.) We also lucked out to see the Nature's Best Photography Windland Smith Rice International Awards. Some of the images were astonishing, including those of a 15-year old. Art Wolfe also had an exhibit.
As it got toward late afternoon, we were all kind of tired, so we all decided to head back to the hotel around 3:30. Dinner was take-out from One Fish, Two Fish, basically across the street. I was a bit worried as the Yelp reviews were mixed, but we thought it was pretty good. It was pretty good day.
Wednesday, Nov 5
This morning we wanted to head to the memorials around the Tidal Basin. Given that it's a significant walk from the nearest transit stop, we decided to take the Metro to the Smithsonian stop and then a taxi to the Jefferson Memorial. This wasn't too expensive and worked out well for another family who grabbed our cab at the memorial as we got out. After seeing the Jefferson Memorial, which I was still quite impressed with, we headed around the basin to the FDR and MLK memorials which had been built since our trip in 1999. Both were also very well done, th0ugh we ended going through the FDR Memorial backwards. (It is split into four sections, one for each presidential term and we did the last, 1945, to the first, 1933.)
After getting Kyle's second Junior Ranger badge at the MLK Memorial, we headed back toward the mall. We were hungry for lunch and there's not much around, so we ended up at the US Holocaust Memorial Museum. It ended up being pretty good. We then were going to go to the museum itself as they have an exhibit especially for kids 8 and up, but they balked at Kyle's bottle of Gatorade. Instead, we hopped the Metro to visit Arlington National Cemetery, a direct trip on the Blue line.
We arrived in Arlington just in time for the changing of the guard at the Tomb of the Unknown Soldier (after a brisk walk) which was worth seeing. We ended up wondering around for a bit, not finding the Challenger Memorial but passing our former senator Frank Lautenberg's grave, before visiting the Kennedy gravesite. It was very busy when we first arrived as a high school group was there, but they left and there were only a handful of people which was very nice. It was getting late at this point, so we hiked back down to the Metro station and rode back to Foggy Bottom, only two stops.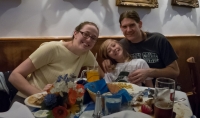 After a break at the hotel, we hopped the bus further into Georgetown to Old Europe for dinner. I had found this in a city magazine in the room and Yelp reviews were good, so we decided to give it a shot. It proved to be very good. I had a couple of pints of Spaten Oktoberfest and a schweinhaxe (roast pork shank) which is hard to get in the states. Kyle even enjoyed his Späztle despite the fact it was pan fried.
Thursday, Nov 6
Today we got a reasonably early start as we were heading out of town to the Steven F. Udvar-Hazy Center, part of the Air & Space Museum located at Dulles Airport. This is basically a giant hanger packed with dozens (probably 100+) airplanes as well as the space hanger with the space shuttle Discovery. We, especially Kyle and I, were really looking forward to visiting and we weren't disappointed. Kyle and I had seen the space shuttle Enterprise at the Intrepid in April, but the Enterprise had never actually flown in space while the Discovery completed 39 missions and 365 days in space, the most of any shuttle on both counts. It also flew the mission which launched the Hubble Space Telescope and flew final shuttle mission in 2011. You could tell it had seen more work than the Enterprise just by looking at it.
Aside from the Discovery, there's also a Concorde, several modern jet fighters, which Kyle really liked, and the Enola Gay, which dropped the first atomic bomb, over Hiroshima, Japan in 1945. It was a bit eerie to see the last. We spent a good part of the day there, heading out a bit past 2 o'clock. Since we were only 10 or so miles from it, we decided to do a side trip to the Manasssas/Bull Run National Battlefield Park. We did the Henry Hill walk which covered the first Battle of Manassas over a roughly 1 1/2 mike trail. The light was also very nice for some great photos. After Kyle got his third, and final, Junior Ranger badge of the trip, we hopped back into the car for the rainy, lots of traffic trip back into DC and to the hotel. Dinner tonight was simply a combination of Chinese leftovers from Wednesday and some stuff from Trader Joe's.
Friday, Nov 7
Our last day in DC dawned quite brisk.  We didn't really know what to do today, so we kind of winged it when we got up. After breakfast, we hopped the Metro down to the Capitol, our first time changing lines. Suzanne and Kyle hit the visitor's center while I walked around to take some photos. (They don't allow any drinks in, even bottles of water, which is why I skipped the center.) Unfortunately, the dome was covered in scaffolding so many of the photos weren't great. After Kyle and Suzanne finished, just as I was done as well, we hopped across the street to the Library of Congress. My Aunt Lucy, who travels to DC fairly often, said it was one of her favorite places. I can see why. After seeing a Gutenberg bible and the main reading room, we visiting the reconstruction of Thomas Jefferson's library, which I found fascinating, and visited the special Magna Carta exhibit. On display was one of only four copies from 1215. (Interestingly, I had seen one of the other ones at the British Library in July.) We also really enjoyed the children's reading room where we let Kyle read for an hour or so. (The comfy chairs were a real plus.)
Upon leaving the Library of Congress, we wanted lunch, but there wasn't much around. We ended up walking to Union Station, which wasn't that far. This was perfect as they had a huge food court with many choices. We even got to finish lunch off with some decent gelato.
Not sure what to do next, we headed to the National Postal Museum, across the street from Union Station. I wasn't too sure about this, but Suzanne had read good reviews. It turned out to be very interesting and even Kyle really enjoyed it. We spent a couple of hours there. Kyle loved the semi-truck cab and the Railway Post Office car. I thought it was cool to see some of the special stamps, including a block of Inverted Jenny stamps, the most expensive collectable stamps at upwards to $1 million each, and a stamped letter recovered from the Hindenburg disaster. After leaving, we headed back to the hotel for some packing before dinner at Burger, Tap, & Shake. The food here was quite good, including the milkshakes, but it was a bit pricey and quite chaotic. Back to the hotel and it was time for a bit more packing, a bit of homework, and it was time to turn in.
Saturday, Nov 8
It was time do our final packing and time to check out and head home. Leaving the city was uneventful. On the way, we stopped by Fort McHenry in Baltimore, which was right on the way. We had visited here in 2008, but it was nice to see it again. The weather was also a bit warmer as last time it was in February. After spending an hour and a half or so here, it was back in the car for the trip home, with a stop at McDonald's for lunch. (I have to remember next time we could have stopped at an Earl of Sandwich at a rest area instead.)
All in all we had a really good trip. The hotel worked our very well in terms of the suite and in terms of the location. Traveling by Metro was fine, though we're pretty comfortable with public transit between visiting NY City often and my living in Boston for several years. It was great that the museums and sites we visited were mostly free. We saw most of what we wanted, though we did miss a chunk of the Museum of American History as we never made it back after Monday. Dining was a bit tricky as a lot of the restaurants were a bit more upscale than we wanted being with Kyle. That said, Old Europe was excellent and the best of the trip.